REDI
The REDI package implements the Robust Exponential Decreasing Index (REDI). It represents a measure of cumulated workload, is robust to missing data and provides control of the decreasing influence of the workload over time.
REDI provides various functions to format data, compute REDI and visualise results in a simple and convenient way.
Issa Moussa, Arthur Leroy et al. (2019): Robust Exponential Decreasing Index (REDI): adaptive and robust method for computing cumulated workload. BMJ Open Sport & Exercise Medicine, https://bmjopensem.bmj.com/content/bmjosem/5/1/e000573.full.pdf.
Installation
You can install the development version of REDI from GitHub with:



#install.packages("devtools")




devtools

::

install_github

(

"Grenouil/REDI"

)
REDI in a nutshell
Here is a basic example on how to simulate a dataset with the adequate format, compute REDI values over time and display results.

library

(

REDI

)


set.seed

(

42

)




## Generate a synthetic dataset with the correct format




data

 

=

 simu_db

(

)





data




#> # A tibble: 366 × 2




#>    Input      Output




#>    <date>      <dbl>




#>  1 2022-01-01   54.3




#>  2 2022-01-02   NA  




#>  3 2022-01-03   51.1




#>  4 2022-01-04   NA  




#>  5 2022-01-05   NA  




#>  6 2022-01-06   49.7




#>  7 2022-01-07   54.8




#>  8 2022-01-08   NA  




#>  9 2022-01-09   NA  




#> 10 2022-01-10   NA  




#> # … with 356 more rows





## Compute REDI over all observations for different Lambda values and display results




res

 

=

 redi

(

data

)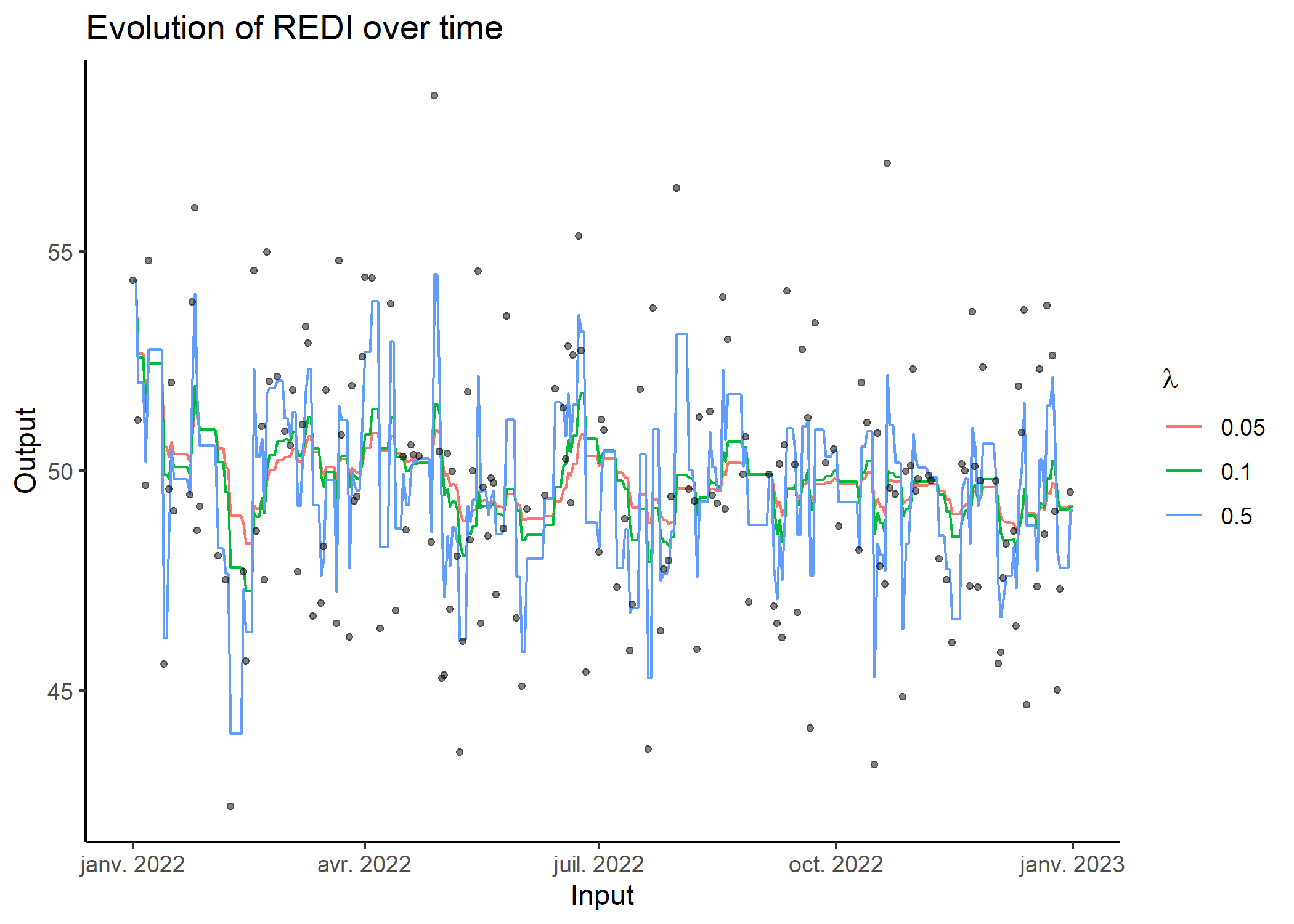 res




#> # A tibble: 1,098 × 4




#>    Input      Output  REDI Lambda




#>    <date>      <dbl> <dbl>  <dbl>




#>  1 2023-01-01   NA    49.2   0.05




#>  2 2022-12-31   49.5  49.2   0.05




#>  3 2022-12-30   NA    49.2   0.05




#>  4 2022-12-29   NA    49.2   0.05




#>  5 2022-12-28   NA    49.2   0.05




#>  6 2022-12-27   47.3  49.2   0.05




#>  7 2022-12-26   45.0  49.3   0.05




#>  8 2022-12-25   49.1  49.7   0.05




#>  9 2022-12-24   52.6  49.7   0.05




#> 10 2022-12-23   NA    49.5   0.05




#> # … with 1,088 more rows